Boarding Kennels
Petboro - Pet Resort and Boarding Facility
Whitefield, Bangalore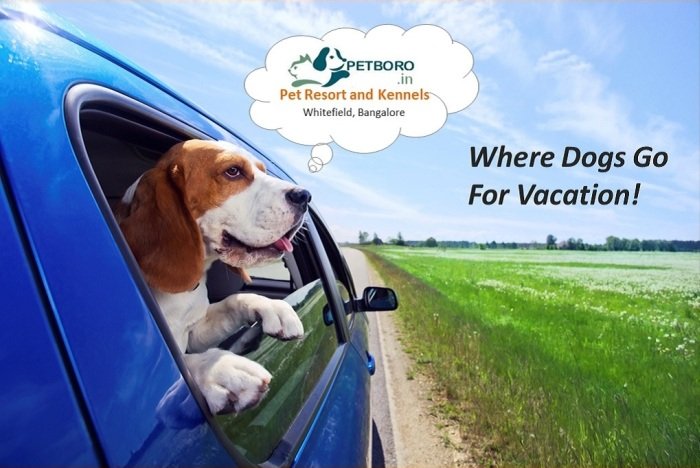 Petboro provides comprehensive dog boarding services at our pet resort and kennels.
Our boarding facility is clean, safe, comfortable, and fun for your pets.
Dogs are split by size and temperament and enjoy tons of play time and large indoor/outdoor play areas.
Petboro has the highest Google ratings for dog boarding in Bangalore.
Here are some of the services that your pet will be able to enjoy at Petboro resort:
Off-leash playtime every day in Petboro Dog Park at no additional cost
(Only available at Petboro)

Games for physical and mental stimulation

Structured walking

Socialising & Play groups with other fur friends of similar temperament & activity level

Ample Rest & Healthy home cooked meals

Personalized care to address separation anxiety & any health or behavioral needs

Extremely well maintained Comfort rooms to fit your Dog size & Condition

One Complimentary grooming for stays 10 days or more

Optional Pickup and drop service available

On call Vet
Scroll Down to see Photographs of our facility
For more information:
Petboro Pet Resort and Kennels
Valepura Road, Varthur
Near Madhurambike Temple
Madhura Nagar Stage 3
Whitefield, Bengaluru
,
India
Call or WhatsApp:
+91 7760401162
Email: support@petboro.in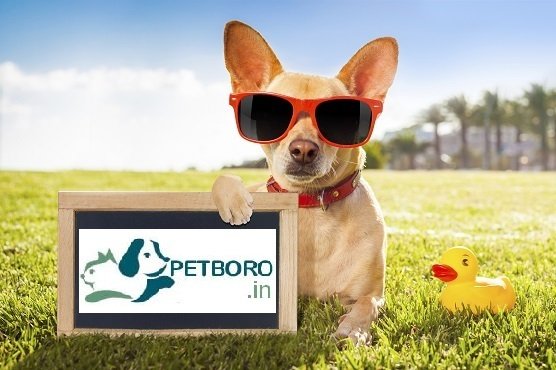 Photographs taken at Petboro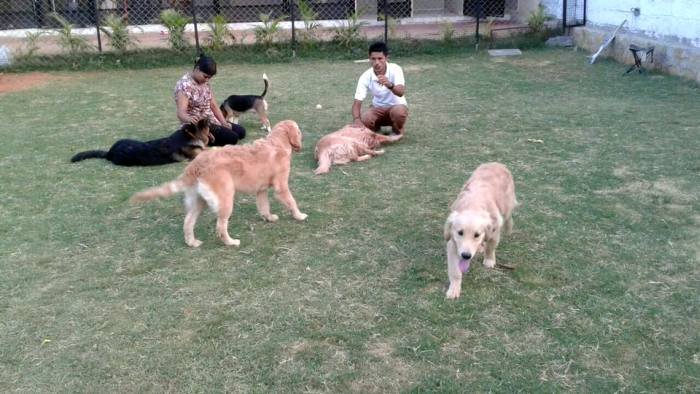 Cats & Dogs - Chennai (Anna Nagar)
Once in my salon (parlour) we got a call from a client to groom his dog St.Brainard
He said he had left his dog in a Boarding kennel for a couple of days when he returned he was shocked at the sight when his pet was lying inside a small cage

.


After a couple of baths at home they couldn

'

t get rid of the smell, so they came to the parlour and we groomed the pet nice and clean.
The dog was poorly maintained and left unattended, so after a few months we started our dog care taker with hygienic environment with Live CC

TV

camera, AC and our staffs take care 24*7.
Hygiene and cleanliness is strictly maintained at our facility, feed them with correct food, take them for walks and let them happily play. We ensure a care and affection to your buddy like you do.

Sound Proof AC Kennel
26 SqFt Kennel
Regular cleaning of kennel to maintain the hygiene
Trained staff monitoring 24X7
We provide commercial food
We offer pick up and drop facility
Regular grooming by professional groomers
Taking the dog for frequent walks and play time
Vet available 24X7

For Details:
+91-8754518867
+91-9841546293

Cats & Dogs
161/5 Mangalam Colony, Anna Nagar,
Chennai - 600040
(Opposite Vee Care Hospital, near Thirumangalam Bridge)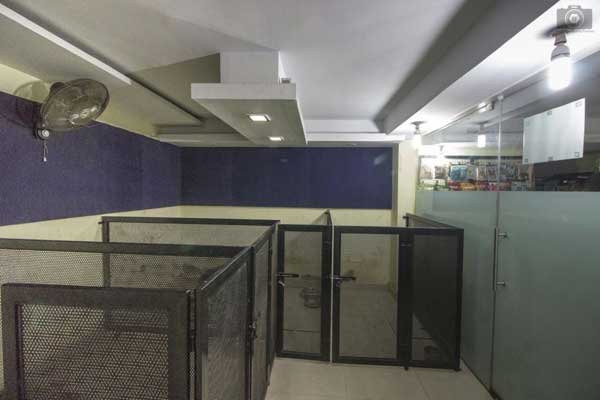 Temporary Housing Of Dogs In Bangalore:
Would like to introduce myself as a care giver and companion to all the four legged angels. My name is Abira

.

I have

been helping families to keep their dogs safely with me

temporarily, till they are not at home

.
My husband too looks forward to spend time and play with any dog staying with us and thoroughly enjoys their presence.
Anyone looking for dog boarding please contact me 9834097371.
I stay in kundanhalli gate, Bangalore.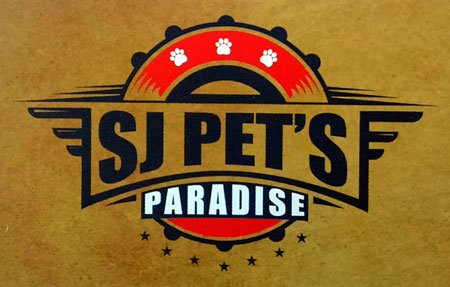 Our kennel is situated at the heart of Chennai, our kennel is so spacious and well maintained where
your pets can feel like home.

Facilities


-

Pick up and drop facilities are available


-

Pets will be given both vegetarian and non-vegetarian food on owner

'

s preference


-

Reputed veterinarian will be available round the clock


-

Regular check up for external parasites such as Ticks and Fleas will be done


-

Ambulance facility for the pets is also available to rush the pup to the nearest hospital in case of any emergency


-

Pets will be taken for regular long walks


-

Free run area is also available for the pets to play around


-

Pets will also get an opportunity to socialize with other pets


-

A trained Handler will be in service round the clock in case of any conflict between two pets


-

Pets suffering from injury will be given extra care


-

We gladly accept the pet owners menu which they have followed.

It would be our greatest pleasure to serve your pet, please feel free to get in touch with us anytime .
Contact:
Phone: +91-9789610006, +91-9600050876
Email: sjpetsparadise@gmail.com



Greenfield Kennels - A Dog Training School & Boarding Kennel with a difference
A Dog Training School and Boarding Kennel which nurtures every aspect of your Show Dog.
If you are looking for the perfect Training School and Boarding Kennel for your precious Show Dog, welcome to Greenfield Training School and Boarding Kennel.
Located on a hillock 8 kms away from the picturesque town of Ootacamund (Ooty), the Queen of Hill Stations, Greenfield Kennels offers an International Training and Boarding experience very similar to what the best German and British Training Schools and Boarding Kennels provide.
Come to Greenfield Training School and Boarding Kennels. Give your Show Dog an advantage that will remain with them through out their lives.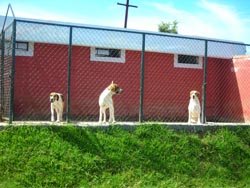 Click Here To View More Pictures & Details About Greenfield Kennels
Enquires to :
Greenfield kennels,
Kumaran Illam, Greenfields, Ootacamund, The Nilgiris,
Tamil Nadu - 643001.
Ph: 91-423-2442503
Mobile: +91-9443856772, +91-9344867788
E.mail: greenfieldkennels@rediffmail.com , greenfieldkennels@gmail.com
Website: www.greenfieldskennels.com
Ayakrris K9 Hostel/Boarding Kennels
Our kennel is situated in a pollution free area, in the midst of our paddy fields; near Chennai. All our boarders are given the same care we would expect for our own pets, and while "there is no place like home", we endeavour to give your pet a stress-free and happy stay. Fully licensed by the local authority. Air-conditioned kennels also available for toy breeds. All diets catered for (within reason). Long or short-term boarding available. Personal attention assured. For the dogs, this includes daily walks in our grassy paddocks. You can reach us in an hour drive from Chennai.
Please Click Here to View Detailed Terms & Conditions, Charges, etc.
Please visit http://picasaweb.google.com/mckaleeswaran
Contact for more details:
(0) 98940-29911
Email: mckaleeswaran@gmail.com


Shekas kennels
Our kennels is situated in the east cost road in Chennai city. our kennel is a spacious, Pleasant place for the pets to dual in. As our kennel is located along the Bay side . There is a very less chance of the dogs getting infected or diseased. We have 36 kennels with dimension of (6feet by 4feet). The dogs can have a nice time with their kennels modes and they are given adequate entertainments during their stay here like walking ,swimming &training, playing etc.

ADDRESS FOR COMMUNICATION
No. 3/432,Pandian Salai, Ist Street,
Neelankarai, Chennai-600041.
Tamilnadu, India.
Phone: 91-044-24493460
Mobile :0- 9884009869,0- 9884409869
Email : shekas_dogs@yahoo.co.in
sndlkmr_sheka@yahooco.in
Homepage : www.shekasdogsint.com
Pet Gallery, Providing Boarding facilities for your dogs in a homely atmosphere.While you are away, we take care of them as you would! Contact: Mr. Ajay Rawat, C II / 94 (SQ), Moti Bagh - I, New Delhi - 110021, India Ph 91-(0)11-4103408.